Welcome, spring! All the signs of the season have arrived on the Northshore: brightly blooming azaleas, dogwoods and redbuds, a bounty of seafood at markets by the sacksful and at our many restaurants that cook what's in season, and a bevy of outdoor activities for the whole family.
 
BRING THE KIDS & CAMERAS

Peter Cottontail has been hopping all over St. Tammany Parish this month, posing for cameras and filling baskets with egg-shaped goodies. The Easter Bunny makes a few more appearances this Saturday, April 3, to hide eggs and take socially distanced selfies.
Bring the kiddos to the Covington Trailhead, 419 N. New Hampshire St., for Egg Rollin' at the Covington Trailhead, 10:00 a.m. to 12:00 p.m., for the all-ages, free event featuring an egg hunt, petting zoo by Red Barn farm animals, face painting, and craft activities, and until 1:00 p.m., the Kiwanis Youth Wellness Fair. The Easter Bunny pops up in Mandeville, too at the Mandeville Trailhead, 675 Lafitte St. Bring the kiddos for pictures with the Easter Bunny at Easter at the Market, 9:00 a.m. to 12:30 p.m., during the weekly, free farmers, artisans, and makers market. Or, bounce over to Slidell for the Olde Towne Slidell Easter Egg Hunt, starting at 10:00 a.m., ending when all the eggs are found among the participating shops.
 
WEAR YOUR EASTER BONNET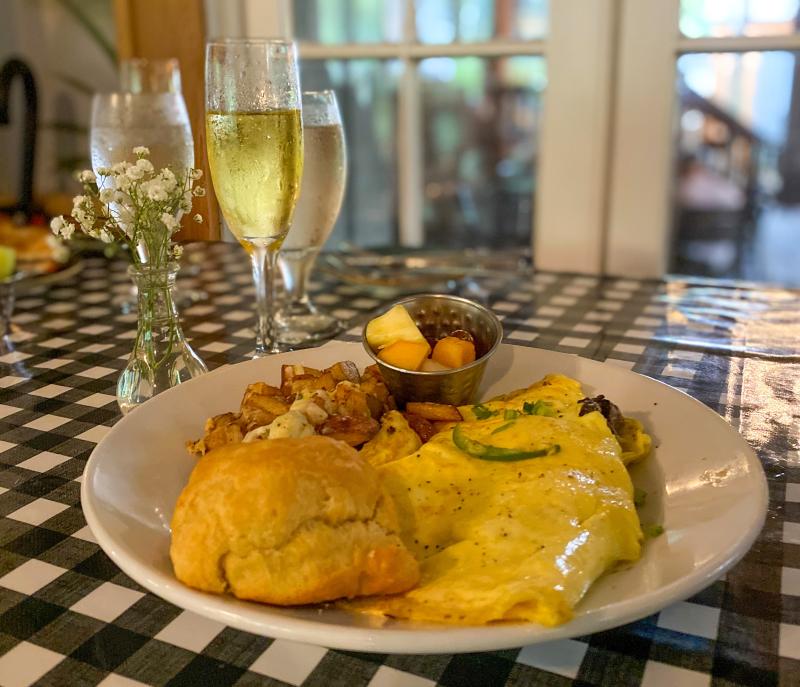 Louisianans love gathering around a table to share time and a great meal together, especially for a holiday. So on Easter Sunday, April 4, it's no surprise that some of the Northshore's finest dining establishments open their doors to welcome guests, friends, and neighbors for spring repasts fit for a king. Below is a highlight.

Pyre Provisions' Easter Brunch on Sunday, April 4, is the regular brunch with all your favorites, 10 a.m. to 3:00 p.m., plus the Easter Brunch Package, a family meal to pick up and enjoy at home. The package includes three pounds of smoked meat (turkey breast or ham), plus gravy; three quarts of your choice of sides, including Mac n' Cheese, Braised Greens & Ham Hocks, Sweet Potato Casserole, Southern Green Beans with Bacon, Cheese Grits or Mashed Potatoes; and a Housemade Pie—Apple, Pumpkin or Pecan. Reserve dinner to go by Thursday, April 1 for pickup Easter Sunday by 3 p.m. Call (985) 888-6129 for reservations for both dine-in and carry-out.
Easter Brunch at The Lakehouse, 2025 Lakeshore Drive on the Mandeville lakefront, 10:00 a.m. to 3:00 p.m., is a delectable prix fixe, three-course menu with entrées like Gulf Fish Meuniere, Lamb T-bone, Pork Tenderloin, Crawfish Omelette, Crab Cake Benedict, Abita BBQ Shrimp and Grits or Chargrilled 14 oz. Ribeye. Bring the kids for the reduced-price kids' menu and photos with the Easter Bunny when he hops in. For reservations, call (985) 626-3006.
Easter Brunch at Palmettos on the Bayou, 1901 Bayou Ln, Slidell, 10:00 a.m. to 3:00 p.m., is a three-course meal of classic New Orleans cuisine with live jazz and great views of Bayou Bonfouca as you dine. On the menu: Trout Amandine, Shrimp & Grits, Chicken & Waffles and Debris Hash, plus starters like Shrimp Remoulade and your choice of three desserts. For reservations, call (985) 643-0050.
Easter Brunch at The Dakota, 629 N. Hwy. 190, Covington, features Bronzed Redfish Amandine, Roasted Free Range Chicken Breast, Roasted Beef Tenderloin, Veal Piccata, and Eggs Dakota, each served with signature sides of herbed vegetables. Included are your choice of five desserts (try the Crème Brûlée) and five starters, including Chef Kringlie's famous lump crabmeat & brie soup. Special Easter libations include the Cotton Tail, made with rum, lime, ginger, and coconut; Bunny Ears (vodka, St. Germain, citrus, and limoncello) and Rosé All Day (gin, citrus, rose water, strawberry, and sparkling rosé). Call (985) 892-712 for reservations, seatings available from 11:00 a.m. to 3:00 p.m.
Easter Brunch at Restaurant Coté, 2219 Carey St., Slidell, features Chicken & Beignets, Panéed Pork, Breakfast BLT, Breakfast Burger, Honey/Sriracha Glazed Chicken & Biscuits, Chicken Fried Steak, Breakfast Platter, Avocado Toast, Softshell Benedict, Alligator Benedict, Creole Benedict, Waffle Napoleon, Pork Belly & Eggs, Shrimp & Gouda Grits and Steak & Eggs. Plus, $10 bottomless Mimosas. Reserve your table, 10:00 am-2:00 pm, by calling (985) 288-5440.
Happy Easter!