That crisp northern air has arrived!
There's nothing like a cool breeze under a sunny sky to put you in a festival mood. October through December, St. Tammany Parish will be bursting with festivals and outdoor concerts, bountiful harvests at our farmers markets and restaurants, and trendy fall fashions or unique handmade creations when you're ready to splurge or get a leg up on holiday gift shopping. You'll find lots to do and see when you visit, so we've put together four don't-miss activities for you to explore the Northshore's entertainment and culinary scenes like a pro. St. Tammany residents will love this list, too--reminders for why we love living here!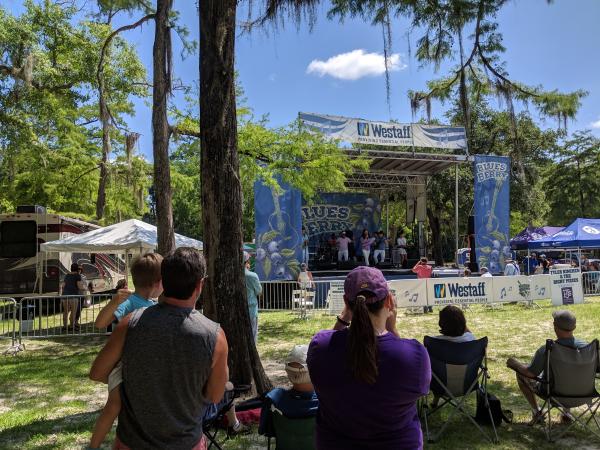 1.   Fall Festivals of Food & More
Locals take advantage of the cool, beautiful weather on the Northshore each fall to go to some of the best festivals all year, including the Bluesberry Music & Art Festival October 8, Olde Towne Slidell Fall Antique Street Fair, Oct. 29-30, Abita Fall Fest, Nov. 4-5, and the art collector's visual feast of Covington Three Rivers Art Festival, Nov. 12-13.
On Oct. 15, take your pick of a host of fests across the parish, including Fall for Art in downtown Covington, Oxtoberfest at Covington Trailhead, Angels Grove Family Fall Fest in Bush, the Extra-Vette-Ganza Corvette Car Show at Slidell's Harbor Center, and the two-day celebration of Louisiana's maritime history at the Madisonville Wooden Boat Festival, Oct. 15-16. The hilarity of the Quick 'n Dirty Boat Building Contest is not to be missed. Celebrate 112 years of St. Tammany culture at the St. Tammany Parish Fair, Sep. 29-Oct. 2, and bring the kids for family fun at the Olde Towne Pumpkin Festival, Oct. 1, and Pumpkins at the Park Oct. 22.
You'll find beaucoup food vendors at all our festivals, but those with an adventurous palate won't want to miss tasting dozens of recipes of chili and gumbo at Madisonville's Battle for the Paddle Chili Cook-off Oct. 29 and Krewe du Roux Gumbo Cook-off at Fontainebleau State Park Nov. 12. You'll find a bevy of flavors at the Louisiana Food Truck Festival Oct. 8 and wilder fare at the Wild Game, Seafood & BBQ Cook-off in Slidell on Oct. 1. Enjoy authentic German foods and fun at Oktoberfest in Olde Towne Oct. 8 and at Middendorf's Oktoberfest, Wednesdays and Thursdays from Oct. 5 to Nov. 10.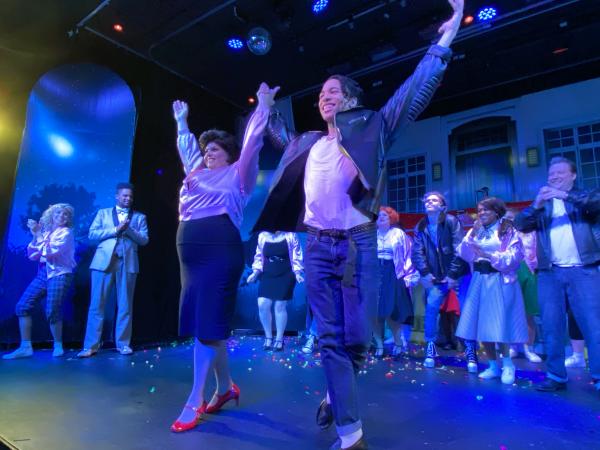 2.    Take in a Show
Traditionally the start of new seasons at theaters across the country, Fall 2022 in St. Tammany Parish presents plenty of options for theater lovers, from comedies and dramas to musicals and holiday shows for the whole family. In Mandeville, 30 by Ninety Theatre presents "Deathtrap", Nov. 5-20, and the 4th annual "A Very Merry Christmas Spectacular", Dec. 2-11. In Covington, Playmakers Theater presents "Southern Comforts", Oct. 1-16, and "Miracle on 34th Street", Dec.3-18. The Evangeline Theater players also present Tennessee Williams' "A Streetcar Named Desire", Oct. 13-22, at Fuhrmann Auditorium in Covington. Also at the Fuhrmann is the Louisiana Bayou King Fest - a tribute to the King of Rock & Roll himself, Nov. 17-20. The weekend features a variety of Elvis-focused performances and events at the theater and host hotel, Holiday Inn Covington.

In Slidell, near Olde Towne, Cutting Edge Theater presents "Frankenstein", Oct. 7-15, "The Rocky Horror Picture Show", Oct. 21-29, "Dry: A Prohibition Cabaret", Nov. 11, and "Lisa Sings Lee", Nov. 18. Over at Fremaux Town Center, Slidell Little Theatre presents "One Flew Over the Cuckoo's Nest", Oct. 7-23, and "Nutcracker Twist", a new theatrical dance work and modern adaptation of the timeless classical ballet, Dec. 9-18.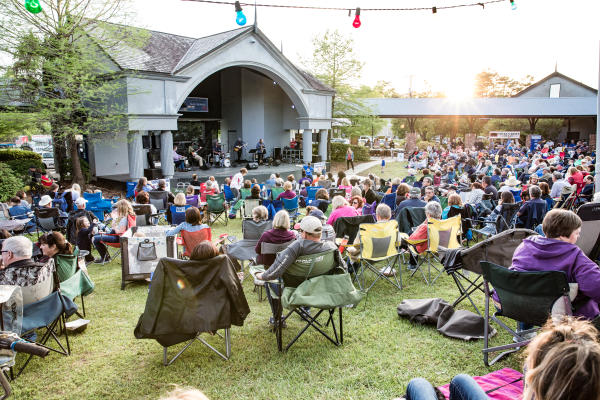 3.    Dance or Chill to Live Music
The Northshore is a great place to check out Louisiana's live music scene, too, because you can see lots of artists across a variety of genres. Many shows are outdoors, free and family friendly, too. Mandeville presents its Free Friday Concerts in September and October, featuring Swingaroux September 23, Soul Revival Sep. 30, Groovy 7 October 7, Phunky Monkeys Oct. 14 and Gregg Wright Oct. 28. See Louisiana Music Hall of Famer Amanda Shaw at Slidell's Heritage Park on Oct. 1, and comedian Mike Strecker Oct. 15. Spend your Halloween weekend in Olde Towne starting with the Olde Towne Zombie Crawl Oct. 28 and Slidell's favorite eccentric, Vince Vance & The Valiants, Oct. 29. 
Covington presents its Rockin' the Rails series on Thursday evenings in October, featuring Rockin' Dopsie September 29, Sugar Bomb October 6, Terrance Simien & The Zydeco Experience Oct. 13, Bottoms Up Oct. 20, and The Blenderz Band Oct. 27. And, for music under the stars with a picnic and bottles of wine, you'll want to travel north of Covington to Wild Bush Farm & Vineyard for their Jazz'n the Vines concert series. The fall lineup features Happy Talk Sep. 24, Christian Serpas & Ghost Town Oct. 1, Jamey St. Pierre Oct. 15, The New Orleans Johnnys Oct. 29 and Buckwheat Zydeco November 19.
If you love singer/songwriters, mark Nov. 3-6 on your calendar to catch the Ozone Songwriter Festival on the Northshore, this year happening over four days on six stages in Mandeville and Slidell and featuring hundreds of performing artists. All events are free except a showcase at Old Rail Brewery, Friday, Nov. 4, featuring Top 40 hitmaker Jim Peterik, best known for "Eye of The Tiger" and "Hold on Loosely" among a host of other hits. Visit OzoneMusic.org for tickets.
For a taste of history with your live music experience, don't miss a show at the Dew Drop Jazz Hall in Old Mandeville, featuring Dr. Michael White & The Original Liberty Jazz Band, Sep. 17, the Jumbo Shrimp Jazz Band October 1, Ed Wills & Blues for $ale Oct. 15, Lil' Ray Neal, Oct. 29, Charlie & The Tropicales Nov. 12, and the season-ender, Lamarque Community Choir & Alicia Renee, aka Blue Eyes, December 3.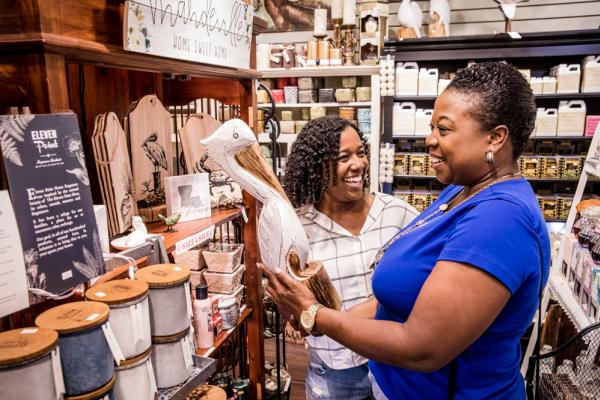 4.    Shop 'til You Drop
While our festivals include shopping among their offerings, the end of the year brings Northshore artisans and holiday shoppers together at several festive shopping events. Right after Thanksgiving, there's the Olde Towne Christmas Market in Slidell, Nov. 26-27, and "Christmas in the Country" in Covington, with special shopping events on Friday after Thanksgiving and every Saturday until Christmas. Also in Covington, at the St. Tammany Parish Fairgrounds Dec. 2-4, is the 38th Annual Christmas Extravaganza Arts & Crafts Expo. Get "Wrapped Up" in Mandeville, too, for its special shopping events throughout December, including the Christmas Past Festival Dec. 10 and the Mandeville Trailhead Holiday Markets Dec. 10 and 17. Nearby Castine Center at Pelican Park will host the Just Between Friends Northshore Kids' Consignment Sale Nov. 18-19 and the Sugar Plum Holiday Market Dec. 10.
In addition to special events, St. Tammany's diverse shopping options make it easy to find everything from national brands to handmade, one-of-a-kind items. Fremaux Town Center's trendy boutiques and department stores with loads of merchandise, to the furnishings, clothing, electronics and appliances at Nord du Lac Shopping Center, River Chase Shopping Center, and Stirling Covington Shopping Center along Hwy 21 in Covington. Antiques, Louisiana-themed souvenirs and handmade arts and crafts abound in Olde Towne Slidell, downtown Covington and the shops in Old Mandeville. If you can't find something great, you aren't lookin'!
Find more events and fun things to do on our event calendar, and be sure to follow us on Facebook and Instagram so you don't miss highlights of all there is to do this fall in St. Tammany.