Boo, y'all. It's Halloween in St. Tammany Parish, and there are no shortage of fun Halloween activities, pumpkin decorating contests, not-so-scary events, pumpkin patches and more on the Northshore. So break out your costume and let's get to Trick-or-Treating! 

Pumpkin Patches
The Garden Spot in Mandeville and Banting's Nursery in Lacombe have wonderful photo opps and a large collection of pumpkins, gourds and fall foliage in every color. Jim's Pumpkins on Florida Street in Mandeville and a variety of local churches like St. Michael's on Sharp Road in Mandeville also have pumpkin patches. Stop by and snap a shot!

Zoo 2 U's Fall Fest Pumpkin Patch
October 16-17, October 23-24, 2021, 11 a.m. – 4 p.m.
Folsom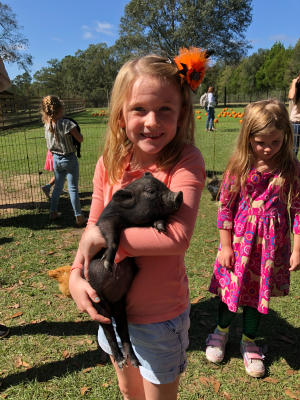 If you love animals, Zoo 2 U in Folsom has their Fall Fest Pumpkin Patch celebrations two weekends in October.  Pay $20/person cash at the gate, and get to know camels, coatimundi, wolves, and more while you experience Zoo 2 U's petting zoo, pony rides, inflatables, face painting, and games for the kids. Pick your own pumpkin to take home from the pumpkin patch. Creole Tomateaux will be on site serving some delicious food!
Pumpkins In the Park
Saturday, October 23, 2021, 11 a.m. – 2 p.m.
Terra Bella Village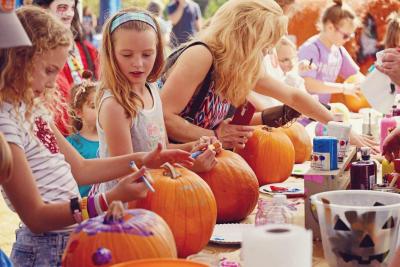 Bring the whole family for a day of festivities featuring pumpkins, pumpkin painting, face painting, hayride, crafts for the kids, food and beverage to purchase and more! Please bring a non-perishable food item for the Northshore Food Bank. Tickets $5/child
Halloween Activities at Fontainebleau and Fairview-Riverside State Park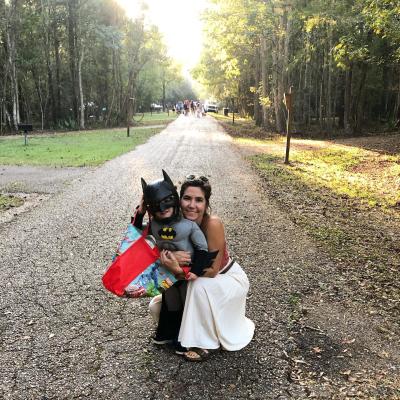 Camp with costumes at our two waterfront Louisiana State Parks, Fontainebleau in Mandeville on Lake Pontchartrain and Fairview-Riverside in Madisonville on the Tchefuncte River.  Plenty of treats and no tricks to be had here! Congratulations to our wonderful state park partners and the Louisiana Office of Tourism for reopening so quickly post-Hurricane Ida.
Fontainebleau State Park
Saturday, October 16: Golf Cart Parade 5:30 pm – 7:00 pm
Campers are invited to bring their golf carts, decorate them and their site, parade in the campground, and distribute treats!
Saturday, October 23: Pumpkin Decorating
Children are invited to decorate pumpkins at the visitor center from 4:00 pm-5:00 pm. Bring your own pumpkins!

Saturday, October 30: Trick or Treating in the campground 4:00 pm – 6:00 pm
Wear your costume for the annual Trick or Treating in Fontainebleau State Park. The road in the campground will be closed for trick or treating. Only foot traffic will be permitted for all of the treats and tricks your little campers can get!
Fairview-Riverside State Park
Every Saturday in October, campers wear their costumes and trick or treat between 4:00 and 6:00 pm!
Can't Miss Halloween Events
Nightmare on Columbia
Saturday, October 23, 2021, 5:00 – 9:30 p.m.
Downtown Covington

The Covington Business Association will host the inaugural Nightmare on Columbia Stroll, Costume Contest & Concert in Downtown Covington! Costumes and revelry will abound as patrons fill the streets of Downtown Covington strolling from business to business to sample 20+ craft cocktails and craft beers! Purchase tickets in advance for $30, wear your best costumes and enter the Costume Contest for a chance to win cash prizes for best single and group costumes. The evening will conclude with a FREE public concert at the Covington Trailhead featuring Tyler Kinchen & The Right Pieces!‍
Monster Mash
Saturday, October 23, 2021, 10 a.m. – 2 p.m.
Bogue Falaya Park, Covington


Purchase tickets in advance at www.DOTHEMASH.org, children $15 ($20 at the gate), adults $5. The Child entry ticket includes Trick-or-Treat Village admission and keepsake bag, maze, Monster Mash Parade, carnival rides, custom crafts, Cookie Booth, music and live entertainers and many more new surprises and activities. Benefits the St. Tammany Parenting Center.
Franco's Boo Bash for Kids
Saturday, October 23, 2021 from 2 p.m. to 4 p.m.
Franco's Health Club and Spa Gymnasium

The 2nd Annual Boo Bash for Kids benefits Cajun Tails Rescue, is intended for all children ages 1 and up and features many age-appropriate activities. Parent(s) bring and stay with their child(ren) for the entire event. Held in Franco's large gymnasium, the Halloween-themed event includes variety of activities kids will love: games, a costume red carpet runway, arts and crafts, sweet treats, a "haunted" inflatable, music and prizes, a puppy kissing booth, a silent auction, and pet adoptions by Cajun Tails Rescue. REGISTER EARLY as space is limited! Admission is $10 per child for Franco's members and $15 per child for non-members when registering in advance.
Coquille Barks: Halloweenie
Saturday, October 23, 2021, from 10 a.m.-1 p.m.
Coquille Sports Complex, Covington

Dress up your furry friend and bring them to the Grove area for some Halloween fun. The event features dogs available for adoption through the Northshore Humane Society and includes a raffle, giveaways for pets, dog costume contest, music and a police demonstration.
Olde Towne Zombie Crawl
Friday, October 29, 2021, from 5 p.m. – 10 p.m.
Olde Towne Slidell 
The Halloween-themed event takes place on four streets in the heart of Slidell--the 2200 Block of Carey St. between Robert and Cousin Streets. Spend an evening in Olde Towne for family friendly fun with live music, local artists, craft vendors, after-hours shopping, kids' activities, pet adoptions and more. This is a pet-friendly event.
Columbia Street Halloween Block Party
Friday, October 29, 2021, 6- 9 p.m.
200-500 blocks of Columbia Street, Covington
It's the last Block Party of the year, and that means Halloween Block Party! Costuming is encouraged for all ages. Some shops and classic car owners have candy for trick-or-treaters, and more activities may be announced, mark your calendar!
Bayou Jam: Vince Vance & The Valiants
Saturday, October 30, 2021, from 5-7 p.m.
Heritage Park in Slidell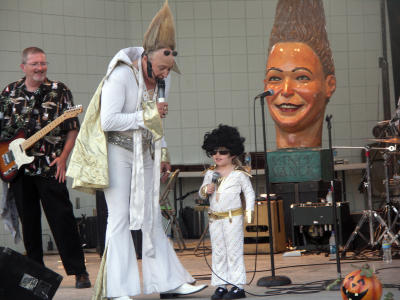 The unforgettable entertainers Vince Vance & The Valiants are back to perform at one of Slidell's biggest Halloween parties at the Bayou Jam Halloween Bash. Kids of all ages are encouraged to come dressed in their Halloween costumes. Admission is free!
Boo Bash on the Lawn
Saturday, October 30, 2021, 10 a.m. to 12 p.m.
Lawn at the Children's Museum of St. Tammany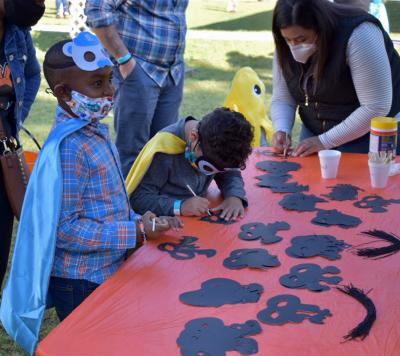 Get ready for trick-or-treating, Halloween-themed games and crafts, and more. Activities are included with the $10 admission for any guest over 12 months old. Don't forget your costume! *the museum will be closed for this event* Tickets available at CMSTkids.org.
Happy Halloween from all of us at the St. Tammany Parish Tourist Commission!