Live music lovers are in for a treat this spring on the Northshore. All across the parish, you can catch outdoor music through multiple concert series.
Enjoy the fair spring weather sprawled on a blanket, as you take in the show on the lawn. Listen in peace or grab a partner and dance. Some locations even allow pets and drinks (but be sure to check with the show before you go.)
The blend of genres at these concerts offers something for every music fan, young and old. There's nothing better than sounds and sun shining through the trees as you listen to covers of hits, or maybe, a songwriter with a diamond-in-the-rough single.
Below are some of the Northshore's most popular outdoor concert series. But believe us when we say, there are many more! Check out our event calendar for a full list of upcoming live music shows.

Jazz'n the Vines
The Jazz'n the Vines outdoor concert series at Wild Bush Farm + Vineyard (formerly Pontchartrain Vineyards) is a great evening for a date night, family outing or a get together with friends. Children are welcome, and free under 12.  Vineyard wines are available for tasting and purchase, and we will have local food trucks serving up some good eats. Bring your fest chairs, blankets and battery powered candles, but no bonfires, pets, sky lanterns or outside drinks allowed.
Lineup includes - April 2nd: Amanda Shaw; April 16th: Flow Trib;:  May 14th: The Tin Men; May 28th: Mia Borders.Gates open at 5. Plus two more shows not yet announced. Concerts are from 6:30-9pm.  $12 per person or online only special of 2 tickets plus a bottle of featured wine for $28.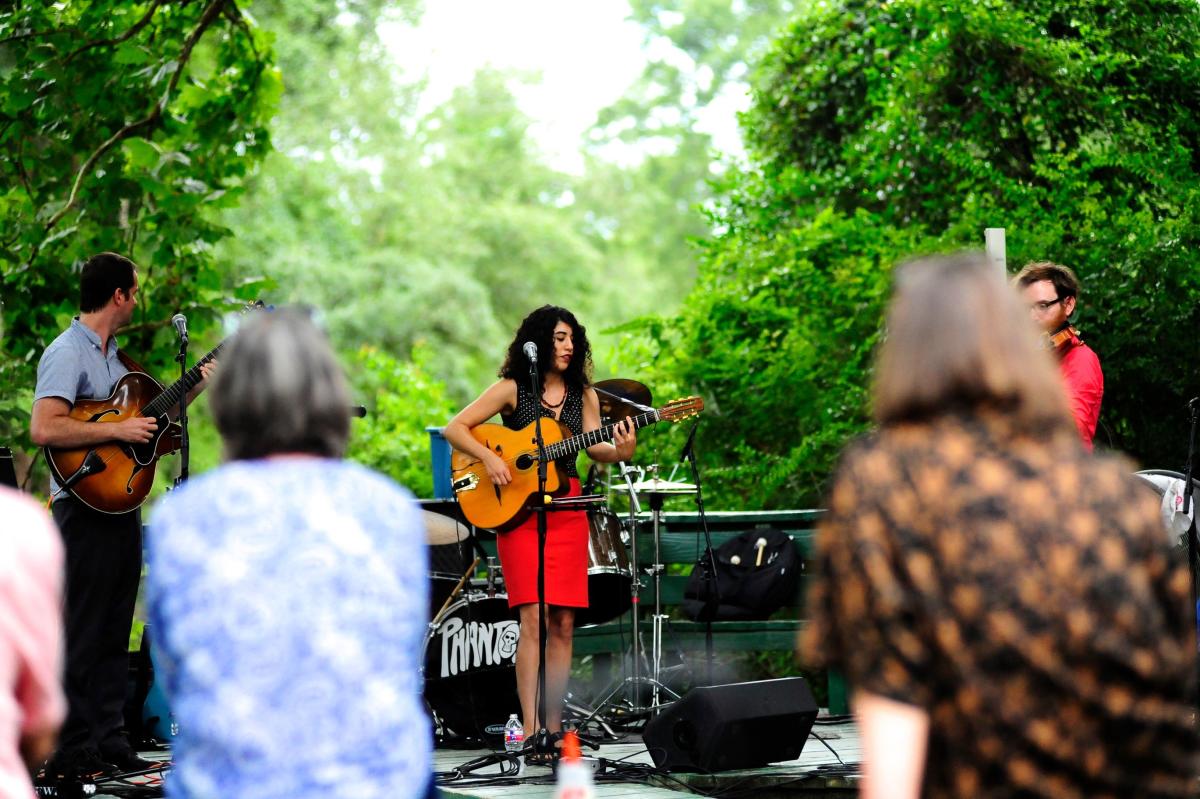 Sunset at the Landing
Every third Friday from March to October at 6 p.m., this free concert takes place at the Columbia Street Landing at the foot of Columbia Street in downtown Covington (100 North Columbia Street.) Here you can listen to local artists play alongside the beautiful Bogue Falaya River at sunset.
The first of the season kicks off with The Davis Rogan Band and The Boston Street Céilí Band. For details, visit their Facebook page. 
Drew Drop Jazz and Social Hall
The historic Dew Drop is more than a music venue, it is an experience. If you've been, you know exactly what we mean. You can feel the history and magic inside. The quaint space fills up quickly, but large crowds overflow in the nearby greenspaces to hear the show through open windows.
The spring 2022 concert lineup includes: Dr. Redwine's Grape Stompers, March 5; Ingrid Lucia, March 19; Camile Baudoin & Friends (with Reggie Scanlan, Frank Bua and John Fohl), April 2; Gregg Stafford & His Jazz Hounds, April 16; Sarah Quintana & Friends, May 14; and Doucet Frères and Lâcher Prise Trio, May 21. Be sure to check with the Dew Drop for any changes.
Mandeville Live!
Mandeville Live! is a collection of free concerts on Fridays from March through May at the Mandeville Trailhead, starting at 6:30 p.m. The launch point along the Tammany Trace (675 Lafitte Street) is a hub for special events, live concerts and seasonal activities throughout the year.
This spring concert season boasts a lineup that includes: B Street Benny, March 25; Sugar Shakers, April 1; The Mystics, April 22; Gregg Martinez, May 6; and Amanda Shaw, May 13. Concessions are available for purchase. More info.
Rockin' the Rails
Rockin' the Rails is the concert series at the Covington Trailhead, 419 N. Hampshire St., on Thursdays each April. This free concert is rockin'!
This spring's lineup includes Kevin & The Blues Groovers, March 31 (Rev. Peter Atkins Park); Where Y'acht, April 7; New Suit, April 14, Big Daddy "O", April 21; and Christian Serpas & Ghost Town, April 28.  Concerts are 5:30-7 p.m., giving you plenty of time to explore downtown restaurants and shops after the show. More info.
Bayou Jam Concerts at Heritage Park
Saturdays at 5 p.m. at Slidell's Heritage Park, (1701 Bayou Lane), you can enjoy this three-part concert series presented by the city. Be sure to bring your chair, picnics and ice chests, too, to this great event!
The series features: March 26 – High School Band & Choir Showcase, March 26; Soul Revival Band, April 9; and Witness, April 23. For more information, visit the city of Slidell's website. 
These concerts and the many like them put us on the map as a destination with great live music to be heard. And as festival season ramps up, you'll have many opportunities to catch your favorite local and traveling bands in town. In addition to live music, the Northshore's spring is filled with events for foodies, families, couples and more. Check out our event calendar and be sure to sign up for our enewsletter for our latest happenings.