Each year, the U.S. Travel Association recognizes National Travel & Tourism Week to celebrate the contributions of the U.S. travel industry. This year, it also recognizes the critical role that travel will play in driving economic recovery efforts with its theme – "Power of Travel." Check out our new video, I Am St. Tammany Tourism, to hear what our travel partners are saying about the importance of tourism in St. Tammany, and the St. Tammany Tourist Commission's role in helping these small businesses to thrive.
The past several years, the state of Louisiana and St. Tammany Parish have taken time during National Travel and Tourism Week to celebrate record-breaking visitation to Louisiana and the role of St. Tammany Parish in the continued growth and success of Louisiana's tourism industry. The travel and tourism industry in Louisiana has traditionally been among the state's top employers – St. Tammany has the 4th largest tourism economy in the state – generating billions in visitor spending, which translates to significant state and local tax revenues. In St. Tammany Parish alone, visitor spending reached $771+ million dollars in 2019, and State and local taxes paid by tourists visiting St. Tammany Parish saved each resident household over $1,000. More than 10,000 jobs in St. Tammany Parish were in the tourism and hospitality industry.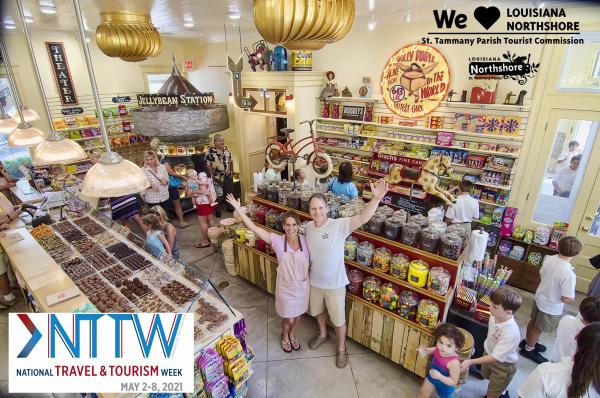 The year 2020 presented many challenges to Louisiana and the world, however, with the COVID-19 pandemic disproportionately affecting the travel and tourism industries. Despite this, efforts by state and local tourism leaders have positioned Louisiana for a bright future and fast recovery. With that in mind, the Louisiana Office of Tourism (LOT) has added the additional Louisiana theme for the week – "Shining Through."
At the St. Tammany Parish Tourist Commission, we know about shining through. We received the 2019 "Shining Example" Award from the Southeast Tourism Society for our Tammany Taste of Summer marketing campaign, an annual, month-long event to put the spotlight on our stellar dining scene. We would later expand on the campaign as a means to sustain our travel partners, doubling the length of the promotion and extending focus to attractions and hotels.
When businesses shuttered, we got right to work on the recovery. Within weeks, we launched the "We Love St. Tammany Parish" campaign, reminding past visitors and area residents what they love about life on the Northshore, highlighting our abundant natural attractions and unique culture. Integral to this campaign was a video series to promote local restaurants who had adapted to continue serving customers.
Also, we began issuing frequent communications to our travel partners on programs established to aid their businesses, while increasing publications to our leisure travel e-newsletter subscribers by 400%. Our bi-annual visitor guide and social media promotions spotlighted outdoor attractions and outfitters, as well as the engaging personalities that operate them.
In early 2021, we surveyed the local community to learn what they want to see from their St. Tammany Parish Tourist Commission and are developing a renewed strategic plan that incorporates their input. In the coming months we will build on these successes by co-producing a job fair to connect our travel partners with potential staff.
We're working hand in hand with the Louisiana Office of Tourism and its Sunshine Recovery Plan, launching a new regional ad campaign sensitive to changing travel trends. LOT has expanded it visibility into real-time visitor data and also invested in new social media technologies to reach potential visitors with the kind of content they want to engage with and see.
Join St. Tammany Parish in celebrating National Travel and Tourism Week by sharing your story and support of tourism in St. Tammany Parish to social media—take a photo of you at your tourism-supported small business, and tag #PowerOfTravel and #LANorthshore!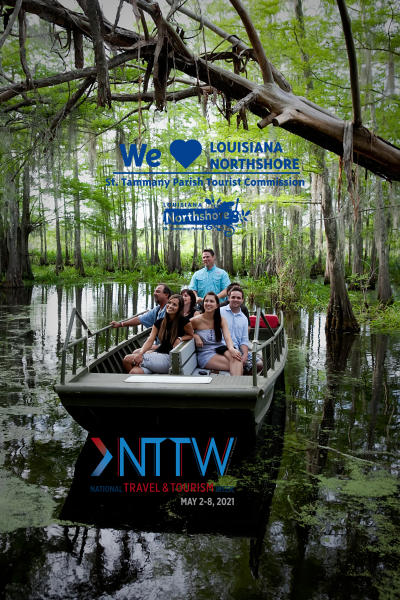 Photo courtesy Cajun Encounters Tour Company