More Mardi Gras Events
Slidell parades officially start on Pontchartrain Drive at Spartan Drive. Mardi Gras Krewes WILL NOT begin throwing beads, etc., until Pontchartrain Drive, so please do not set up or park along Spartan Drive. On parade days, visit the Slidell Police Department's Facebook page for live updates and video feed.
Krewe of Poseidon
Saturday, Feb. 16 at 6pm in Slidell
Has 560 members, 28 floats (mostly double-deckers), marching bands and lots of throws. This co-ed krewe was founded in 2015 with a goal of providing the citizens of Slidell and the surrounding areas with an exceptional parade indicative of the traditions and history of New Orleans Mardi Gras. Starts at the intersection of Berkley Street and Spartan Drive, and follows a route northwest to Highway 11, northeast to Hwy 190, and east through town just past the intersection of 190 and Kensington Boulevard.

Krewe of Slidellians
Sunday, Feb. 17 at 1pm in Slidell
Founded in 1947, the Slidell Women's Civic Club was formed to foster community service in eastern St. Tammany Parish and is open to the community for riders and sponsorships. The Krewe of Slidellians kicks off the Mardi Gras season in Slidell. Parades along Pontchartrain Dr. from Spartan Dr. to Hwy. 11, then along Front St. to Gause Blvd. and ending at Lindberg Drive.

Mystic Krewe of Perseus
Sunday, Feb. 17 in Slidell (follows Slidellians)
Founded in 1970, Perseus hosts a thirteen-float parade with riders donning his or her own handmade costume. The Krewe's 170 members throw hand-decorated plastic crabs, crab beads, slap bracelets, and cups. Route loads up at Fritchie Park and begins at Salmen High School. Immediately follows Slidellians' parade.

Krewe of Pearl River Lions Club
Sunday, Feb. 17 in Pearl River
This popular day parade is a whole-town celebration, with 12-15 floats, Pearl River High School's band, cheerleaders and clubs, as well as churches, civic groups, and families who just love a parade. Begins at Pearl River High School and continues south on Highway 41, turning left at the light onto Hwy. 11 and ending at the Pearl River Town Hall on Willis Alley. Founded in 1953, this krewe supports the Pearl River Lions Club charity, which provides eye care for qualifying individuals.
Krewe of Eve
Friday, Feb. 22 at 7pm in Mandeville
The popular all-women krewe founded in 1985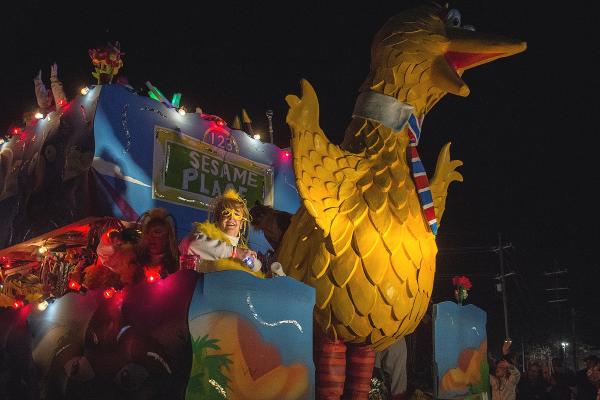 , with over 400 members in elaborately decorated sweatshirts, parades through the streets of Mandeville at night. The parade includes an annual competition of local and out-of-state marching bands, 22 beautifully decorated Blaine Kern floats and lots of throws for a fun family night. Starts near the junction of Hwy 22 and US 190 and follows W. Causeway Approach above Monroe St., crosses 190 and ends on E. Causeway Appr.

Krewe of Olympia
Saturday, Feb. 23 at 6pm in Covington
Founded in 1965, this 300-member Krewe is the oldest in St. Tammany. Keeping the identity of King Zeus a secret, members ride on floats, trucks and horses interspersed with marching bands from across the Northshore. Last year's parade featured 19 floats with lighted throws, the Tulane University Marching Band, and special appearances by the Disco Amigos, the Laissez Boys and the Budweiser Clydesdales. Starts in front of St. Tammany Parish Justice Center on Columbia St. and follows a route along Hwy 21/Boston St. to Jefferson, 15th, Tyler, and W. 23rd Ave., then turns and comes back through downtown again.

Mystic Krewe of Titans
Saturday, Feb. 23 at 6:30pm in Slidell
Comprised of 325 members, this co-ed krewe was established in 2010 by a group of Carnival veterans who wanted to bring the merriment of Mardi Gras to the streets of Slidell in a high-quality, family-oriented, nighttime parade. Starts in Fritchie Park.

Krewe of Dionysus
Sunday, Feb. 24 at 1pm in Slidell
The krewe's 250+ members celebrate Dionysus, also known as Bacchus, the god of wine. Parading through the streets of Slidell since 1985, it begins on Spartan Drive at Fritchie Park and travels to Pontchartrain Drive.

Krewe of Selene
Friday, March 1 at 6:30pm in Slidell
An all-women's night parade. Hand-made, elaborately decorated purses are Selene's signature throw, and parade-goers can also catch lighted star wands and a variety of specialty beads. Dedicated to community outreach year-round, the Krewe of Selene supports Ladies for Liberty by sending items to troops overseas, a food drive to support Second Harvest Food Bank, and Project Christmas, which helps local families in need.

Original Krewe of Orpheus
Friday, March 1 at 7 pm in Mandeville
The all-male krewe parades through the streets of Mandeville on floats illuminated by LEDs and street effects, with 9 different throws including beads, lighted wands and other objects, and signature medallions. OKO's official call and response of the hearty Krewe is: "HAIL ORPHEUS" "HAIL YES."

Krewe of Bush
Saturday, March 2 at 9am in Bush
Fun parade of trucks, boats, floats, horses and ATV's held on the Saturday before Mardi Gras. Free for your krewe to ride, roll or walk - bring your own throws and line up by 8:30am. Paraders line-up at Bush Rec Center on Hwy 41, parade travels from Bush Cowart, Watts Thomas Rd. and Hwy. 41 returning to the recreation center.

MARDI GRAS DAY - Tuesday, March 5
The City of Covington, Covington Lions Club and community volunteers present Carnival in Covington, with parades by the Krewe of Covington Lions Club and Mystic Krewe of Covington, followed by a celebration at Covington's trailhead of the Tammany Trace, located at 419 N. New Hampshire Street.
The parades begin at 10am and roll one immediately after the other, and the post-party at the Trailhead starts around noon and features entertainment, music, food and family fun.
The parades will featuring walking groups, musicians, floats, antique cars, small trucks and wagons and fun throws. The Grand Marshal and parade theme will be announced as the event nears.
 
Krewe of Covington Lions Club
Covington – 10am
Founded in 1959, this is the 60th annual parade for the Krewe of Covington Lions Club. The lineup includes walking groups, musicians, riders, antique car owners and more to be announced. Follows the same route as the Krewe of Olympia. The Lions Club supports the cost of exams and eyeglasses for low-income individuals.
Mystic Krewe of Covington
Covington – follows Lions 
The Mystic Krewe of Covington was organized in 1951 as the Krewe of KaaCee after the initials of the Knights of Columbus (KC), the krewe's founding group. This organization is one of the oldest carnival krewes rolling in St. Tammany Parish. Rolls just after the Krewe of Covington Lions Club parade.


Krewe of Chahta
Lacombe – 1pm
Named for Chahta-Ima High School, which many of the founding members attended and which itself is named for St. Tammany's founding father, Fr. Adrien Rouquette, is comprised of floats, cars, marching units and horse groups. Starts at the Morocco Room and follows US 190 north to 17th Street, Fish Hatchery Rd., and ends at Lacombe Nursing Home. Founded in 1989.

Krewe of Folsom
Folsom – 2pm
This eclectic krewe invites the public to participate in its parade of decorative floats, vintage vehicles, four wheelers, cars, trucks, horses, horse drawn wagons, vintage tractors, and RV's. Starts and ends at Magnolia Park, 13296 LA-40 near Olive St., and follows to Cleveland, along Hwy. 25 to Jackson St. and back.