St. John Fools of Misrule
Saturday, Jan. 5 at 6 pm
Walking Parade
The Fools and Jewels of this krewe march through historic St. John District of old Covington (1813) on Saturday closest to Twelfth Night (Jan. 6), also known as The Epiphany or King's Day. The organization's rituals are derived from an ancient English men's group that clamored along the evening streets creating unruliness with cowbells and whips while delivering jeers and spankings to those caught on the street unaware. The Fools of Misrule integrated into its name homage to the streets where it conducts its bawdy procession. Led by a "Lord of Misrule," flambeaux and a brass band starting at Seiler Bar (434 N. Columbia Street), revelers follow a route along Lockwood St. west to the Covington Trailhead, south on New Hampshire St. to Boston, north along Columbia St. to end back at Seiler, stopping at watering holes and restaurants along the way. Their slogan: Vivere Vitam Omnino! – Live Life Completely!
Saturday, Feb. 23 at 6 pm
Floats, Trucks and Horse Parade
Founded in 1965, this 300-member Krewe is the oldest in St. Tammany. Keeping the identity of King Zeus a secret, members ride on floats, trucks, and horses interspersed with marching bands from across the Northshore. Last year's parade featured 19 floats with lighted throws, the Tulane University Marching Band, and special appearances by the Disco Amigos, the Laissez Boys, and the Budweiser Clydesdales. Starts in front of St. Tammany Parish Justice Center on Columbia St. and follows a route along Hwy 21/Boston St. to Jefferson, 15th, Tyler, and W. 23rd Ave., then turns and comes back through downtown again.
MARDI GRAS DAY - TUESDAY, MARCH 5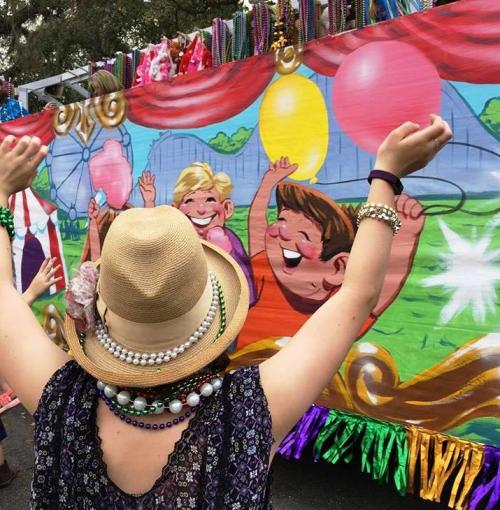 The City of Covington, Covington Lions Club, and community volunteers present Carnival in Covington, with parades by the Krewe of Covington Lions Club and Mystic Krewe of Covington, followed by a celebration at Covington's trailhead of the Tammany Trace, located at 419 N. New Hampshire Street.
The parades begin at 10 am and roll one immediately after the other, and the post-party at the Trailhead starts around noon and features entertainment, music, food and family fun.
The parades will feature walking groups, musicians, floats, antique cars, small trucks and wagons, and fun throws. The Grand Marshal and parade theme will be announced as the event nears.
Covington – 10 am
Walking Parade
Founded in 1959, this is the 60th annual parade for the Krewe of Covington Lions Club. The lineup includes walking groups, musicians, riders, antique car owners and more to be announced. Follows the same route as the Krewe of Olympia. The Lions Club supports the cost of exams and eyeglasses for low-income individuals.
Covington – follows Lions 
Floats, Cars, & Walking Parade
The Mystic Krewe of Covington was organized in 1951 as the Krewe of KaaCee after the initials of the Knights of Columbus (KC), the krewe's founding group. This organization is one of the oldest carnival krewes rolling in St. Tammany Parish. Rolls just after the Krewe of Covington Lions Club parade.