By Sharon McDonnell | Roadtrippers Magazine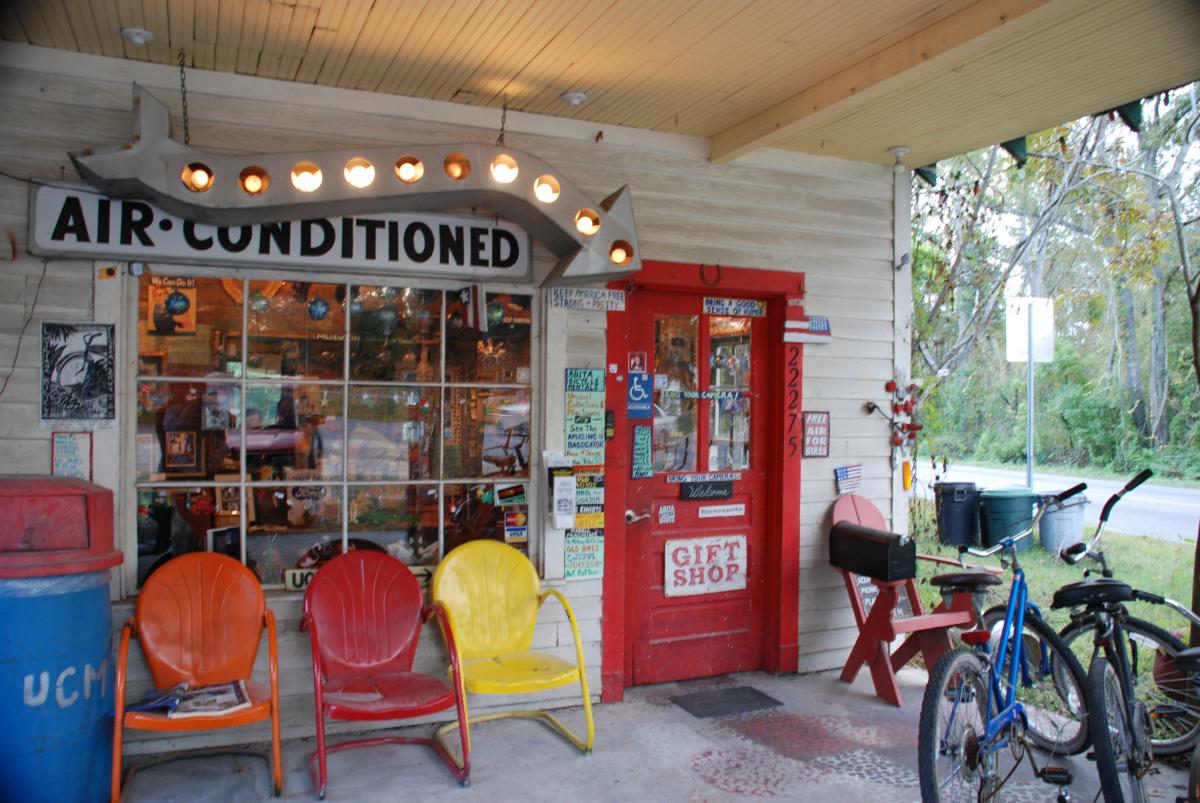 Housed in a former gas station in a small town less than an hour's drive north of New Orleans, the Abita Mystery House is suffused with a sense of whimsy so deep, it's positively subterranean. Its bizarre collections, outlandish contraptions, ingenious inventions, and what some people might call "junk" (about 70,000 items in all) poke gentle fun at the South—and reflect the warped vision of its founder, John Preble, a part-time artist and full-time eccentric. 
Preble once proudly called a pinball machine he built from 2,000 popsicle sticks—insert a coin and a marble travels an intensely circuitous route—his "masterpiece." But he also says that distinction "changes in my mind by the day." What's his favorite the day I visit? The Career Counseling Machine. Insert a quarter, and Preble's invention spits out advice, suggesting I become an oyster-shucker or emoji designer.
New Orleans Museum of Art director emeritus John Bullard has called the Abita Mystery House "the most intriguing and provocative museum in Louisiana." In a state chock-full of bizarre customs, museums, and festivals, that's high praise indeed.
Every day, a truckload
Press a button in any of a dozen handmade dioramas in the Abita Springs attraction, and tiny clay human figures dance and sway, while surrounding mechanical objects come to life. A New Orleans Mardi Gras parade is visited by a hovering UFO, and Martians mingling in the crowd jump for beads. In the largest display—a 24-foot-long diorama of Louisiana's River Road—a swing at a haunted plantation-style mansion sways ominously to and fro, next to an oil refinery, snake farm, and BBQ shack.
In another, a tornado hits a trailer park; doors fly open to reveal a garage sale near a Sno-Ball stand (the beloved state treat consists of fluffy shaved ice doused with flavored cane sugar syrup) on Dog Pond Road. 
Bufford the Bassigator (crafted from spray foam insulation with beach balls for eyes), Darrel the Dogigator, and other mutant critters straight out of horror films, were crafted from dollar store skeletons. Some were given to Preble as gifts and he fashioned heads, limbs, and skin for them. There's a shrine where the devout can pay their respects to St. Elvis (Presley), the patron saint of the South. In the backyard, an Airstream trailer is under attack by a UFO.
Gigantic animals and fruits—a grasshopper the size of a truck, and monster-sized pumpkins and watermelons—adorn vintage postcards from the early 1900s. If you ever wondered what happened to all those paint-by-number and velvet paintings popular decades ago, here's your answer. Many of them ended up here.
"I like stuff," the 70-something Preble says modestly. "Some people don't like stuff, but I do. I don't really buy stuff—it's not necessary." He says he limits purchases to items that cost less than $10, and for good reason: People inexplicably discard all kinds of treasures, in conditions from mint to decrepit, which Preble then adds to the items he's collected over the years. "For 21 years, people have been bringing me stuff," he says. "Every day I get a truckload." 
Pack a sense of humor
Preble originally dubbed the attraction he opened in 2000 the "UCM Museum," which he says stood for "You see 'em." If he was in a high-minded and academic mood (not often, he says, even if he once taught pottery at Loyola University), he would explain that it meant "Unusual Collections and Miniatures." 
Using a former gas station as the entrance, Preble built the dioramas, constructed an exhibit hall to house them, and moved a century-old Creole cottage onto the property. His art studio is also here. It includes his woodcut-inspired prints of the Louisiana ABCs: from A for Alligator to Z for Zydeco, the music of southwest Louisiana. 
Preble transformed a humble shed into the House of Shards. Comprising thousands of broken pottery pieces and mirrors, it feels inspired by Catalan architect Antoni Gaudí and his church of the Sagrada Família. But Preble, handy from years of buying and renovating local "fixer uppers," says Barcelona's famous artist wasn't an influence. "I like to do mosaics and haven't seen Gaudi's art [in person]."
The first day the collection was open to the public, one person came. Sadly, the second day, "attendance fell off," Preble says. But the Abita Mystery House not only rebounded, it boomed—and today it draws the curious, young and old, from far and wide. 
Other attractions in Abita Springs include the Abita Brewery, the Tammany Trace (a rails-to-trails bike and hiking path), and natural mineral springs. But before you visit the tiny town (population 2,500), "Don't forget to pack a sense of humor for this wacky collection of tongue-and-cheek displays of Louisiana culture and outsider art," says Christina Cooper, vice president of communications for the St. Tammany Parish Tourist and Convention Commission. 
Preble says the most common comments he gets range from "Oh my God" to "How long did this take?" Mine comes in the form of a question: "How did you manage to become a Renaissance man of junk?" His reply is succinct. "I've been doing all this while you're playing on your iPhone," Preble says.
If you go
The Abita Mystery House is located in Abita Springs, Louisiana, in St. Tammany Parish. It's across from New Orleans over the Lake Pontchartrain Causeway, the world's longest continuous bridge over water. Admission is $5.