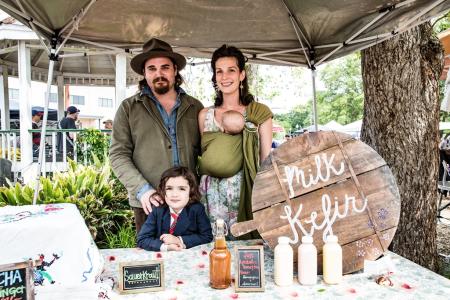 COVINGTON
There's more than prepared foods, of course, at the Covington Farmers Market. Real farmers truck their produce in for the twice-weekly markets in historic downtown Covington--Wednesdays from 10am to 2pm at the Covington Trailhead and Saturdays from 8am to 12pm on the lawn of the Covington Police Department.
Chefs and food fans show up to score the freshest local fruits and vegetables. There are beautiful, plump blueberries and blackberries, grown just up the road. Sweet satsumas, heirloom tomatoes and regional favorite Creoles, too, vie for attention depending on the season. Regulars greet the bread lady and farmer Nick. They sample salsa and cookies, sip fresh-brewed coffee or herbal tea. Sunlight filters through the trees and, usually, live musicians playing in the small gazebo provide a soundtrack to the scene.
Also in Covington is a small market just outside of downtown at the junction of Hwy 190 and Hwy 21: the Claiborne Place Makers Market, held Sundays 10am to 2pm, offers prepared foods, local honey, breads, clothing, incense, jewelry, toys and more.
 
MANDEVILLE
The Covington markets are far from the only ones on the Northshore. A few miles away, in Mandeville, the Mandeville Trailhead Community Market is also abuzz on Saturday mornings, showcasing area arts and crafts, handmade soaps and cute birdhouses, and featuring local singer-songwriters on the pavilion stage. But farmers and a number of good cooks offer fresh produce, eggs and herbs and prepared foodstuffs, too, like pepper jelly, beef jerky, boudin and fresh-roasted coffee.
SLIDELL
Over in Slidell, Camellia City Farmers Market sets up on Saturday mornings in Olde Towne's Griffith Park at 333 Erlanger (by Slidell Auditorium parking lot), spreading the love with local produce, arts and crafts, prepared foods and live music. Pretty little eggplants and yellow squash have that just-picked sheen; bundles of turnip, collard and mustard greens have crisp leaves and smell of the earth.
FOLSOM
Missed one of the Saturday morning markets? Take an afternoon drive among rolling hills and horse farms to the Folsom Farmers Market at Giddy Up Folsom, held Saturdays from 2pm to 5pm. Giddy Up is part café, part community meeting and performance space, hosting several events throughout the month including a small market of goods by local growers and makers. Items include fresh produce, plants, meats, breads, prepared foods body care items and fine art, as the market area borders Far Horizons Art Gallery.
MADISONVILLE
Further east is the Madisonville Makers Market, held Sundays from 10am to 2pm at the Madisonville Ball Park & Playground, 1007 Pine Street. Over 150 vendors rotate weekly, offering a wide variety of foods, goods and gifts. The market features both fresh-picked vegetables and fruits as well as hot and ready-to-eat foods. Plus, plants, original art and artisan crafts, wellness and body care items, home décor and apparel. Shopping aside, families will enjoy the nearby playground and ball field with concession stand, as well as on-site massage therapists when you're ready to take a break.
ABITA SPRINGS
The Abita Springs Art & Farmers Market tempts on Sundays from 12 noon to 4pm. Located adjacent to the Tammany Trace at the Abita trailhead, the market offers shoppers all kinds of locally-sourced goods, including pastured poultry, wild-caught seafood, honey, prepared foods, fresh produce and baked goods, as well as plants, personal care products and works by artisans and crafters. Enjoy live music from the Trailhead Museum stage. You can also shop Abita's virtual farmers market with their free mobile app, for iOS and Android devices. See what local farmers and vendors are bringing to market and order & pay in advance.
The air is festive at all the markets. And why not? Celebrating great food and nature's bounty is a way of celebrating life and Louisiana culture, too.