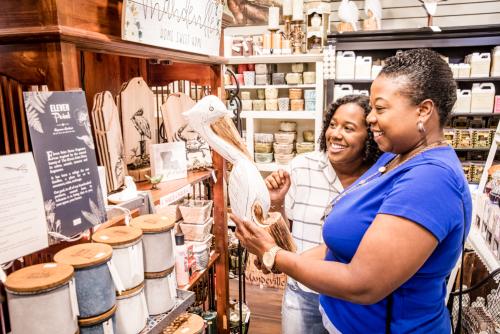 Historic downtown Covington is a walkable district of restaurants, lodging, art galleries and shops of every description. Browse for antiques, shop for fine gift items, home décor, stylish clothing for women and kids. One standout among many: Copper Rooster Antiques. See below for listings of shopping spots throughout St. Tammany Parish, and be sure to click on ShopLocalUSA.com for interactive maps of shopping districts in St. Tammany.
In Slidell, on the east side of the parish, the Olde Towne historic district also offers antique shops, as well as gifts, art, and even Saints merchandise. Find antiques at places like Lulu's Almost New Boutique and fragrant, calming aromatherapy items from Green Oaks Apothecary. Three Divas and a Sugardaddy has almost everything you could want.
Mandeville's shopping is a little more spread out, but no less enticing. Find quality gifts at Arabella; holiday items at Das Schulerhaus Gift Gallery & Christmas Boutique and antiques at Mae's.
There also are a number of shopping centers with a variety of retailers. In Covington, find Nord du Lac and River Chase shopping centers. Mandeville offers Premier Shopping Centers 1 and 2. In Slidell, get your retail fix at North Shore Square Mall and at the relatively new Fremaux Town Center.
Looking for something out of the ordinary? Consider monk-made soaps and candles from the St. Joseph Abbey Gift Shop; Abita Beer growlers, t-shirts and hoodies and other merch from the Abita Brewery Gift Shop; and delicious (so we hear) home-made dog treats from Slidell's Café Du Bone Bakery & Boutique.