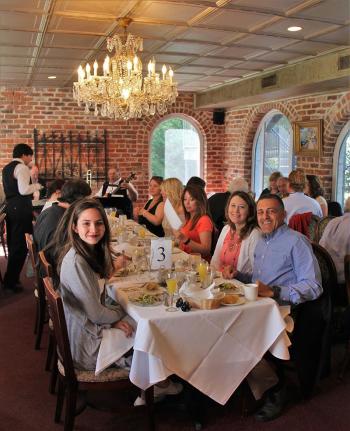 Begun in 2012, A Taste of Covington started as a week-long locals' event, but as it brought in visitors who love the idea of exploring the area's culinary bounty in such a festive way, it added to its name "5 Days of Food, Wine, Music & Art" and in 2020, expanded to a month-long wine and culinary celebration with weekly vintner's dinners, thus allowing foodies more opportunities to explore Covington's vibrant culinary scene.
The festival features vintner's dinners throughout the month at participating restaurants, each hosting all-inclusive dinners of four or more courses with wine pairings. Also featured is the "Festa Del Vino" on June 18, a tasting event with live music at the Covington Firehouse Event Center, and, a highlight of the festival, the "Grand Toga Wine Tasting," a festive evening event with live music and active sipping, held June 25 at the Southern Hotel in their Camellia Ballroom, Sunroom and Courtyard.
New for 2022 is the Sunday Brunch series, held every Sunday in June at a different location: Half Shell Oyster House, June 5; Pyre Provisions, June 12; Annadele's Plantation Restaurant and B&B, June 19; and Southern Hotel, June 26.
Book your hotel early if you're planning to be in town for ATOC and be sure to check out the lineup of restaurants participating in the vintner dinners. Participating restaurants this year include Del Porto Ristorante, The Gloriette, Forks and Corks, Gallagher's Grill, Annadele's, Seiler Bar, Pyre Provisions, Half-Shell Oyster House, Desi Vega's Steakhouse, Marcello's Restaurant and Wine Bar, and Nonna Randazzo's Bakery & Caffe.
Prices vary for the various components of ATOC. Reservations are needed for all events. For locations and dates, and to learn more about the festival, check out our event detail.