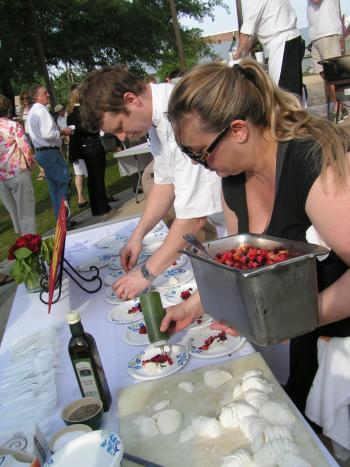 Begun in 2012, A Taste of Covington started as a locals' event but increasingly is bringing in visitors who love the idea of exploring the area's culinary bounty in such a festive way, especially as it's added to its name "5 Days of Food, Wine, Music & Art." Book your hotel early if you're planning to be in town for ATOC and be sure to check out the lineup of restaurants participating in the vintner dinners.
Among restaurants participating in recent years have been Del Porto, whose chefs have been nominated three times for James Beard Awards; Oxlot 9, the lovely Gulf-inspired restaurant from chef Jeffrey Hansell; chef Kim Kringlie's elegant Dakota; longtime favorite Gallagher's Grill from Pat Gallagher; Meribo, whose chef Gavin Jobe was a winner on The Food Network's Chopped, as well as Pardo's American Bistro, Annadele's Plantation, Forks 'n Corks, Bacobar and others.
The Grand Tasting is a festive event held under two large tents at Acquistapace's, a popular locally owned grocery, specialty and spirits store. Live music and active sipping makes the evening special.
A Taste of Covington coincides with the St. Tammany Art Association's Spring for Art, an evening of gallery openings, live music, art demonstrations and shopping.
Prices vary for the various components of ATOC. Reservations are needed for most. To learn more about this year's event, check out our event detail.