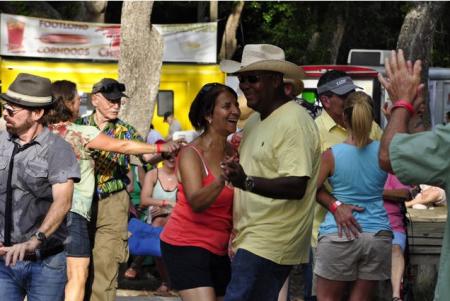 The St. Tammany Crab Festival celebrates the cantankerous crustacean with a huge two-day party in Slidell's Heritage Park. The fun festival features non-stop live music, Battle of the Bands, a classic car show, boat rides, kids games and activities and, of course, the star of the show, crabs galore. 
Known for decades as the Lacombe Crab Fest, the event moved to Slidell in 2016. The venue may have changed, but the joyous celebration of Louisiana food and culture has not. Families come prepared for a day of fun outdoors, using umbrellas, hats and visors to shield them from the sun. There's dancing everywhere, even in the food booth lines, and good vibes in the air. 
Recent fests have showcased Louisiana musical talent like Tab Benoit, Dru Hill, Cowboy Mouth, Christian Serpas and Ghost Town, Rockin' Dopsie and many more. Food booths serve up bright coral-hued, spicy boiled crabs, golden fried softshell crabs, crab poboys, boiled crawfish and shrimp, and even fair food like roasted corn and shaved ice snowballs. 
There's a crafts area, too, with local vendors offering a variety of wares; a children's play area; boat rides on the adjacent, historic Bayou Bonfouca (for an additional charge); and the Mr. Crabs Car Show, featuring classic cars and trucks, Rat Rods, motorcycles, 4x4s and more.
For more info, see our event detail.